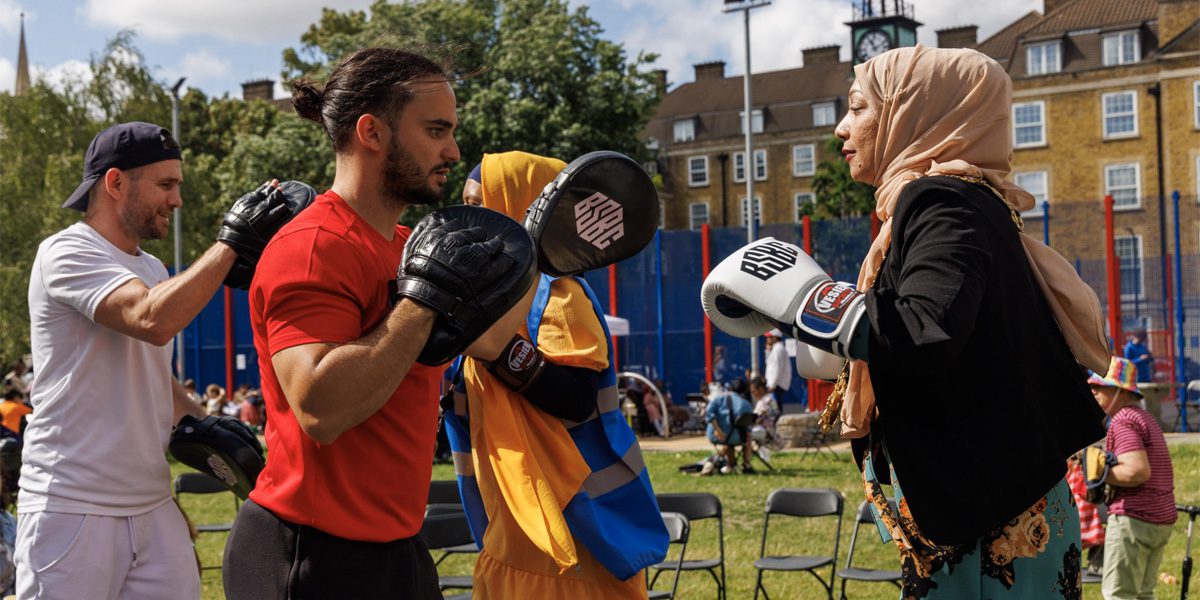 Working With the Community: A Round Up of Recent Events
Working with and inspiring the local north London community has always been at the heart of our practices. From creating workshops for young ones to offering education on fitness in boxing, we jump at the chance to connect with our neighbours.
This July, we've been busy having fun at some Camden events, including the NHS Community Health Event Camden and Camden New Town Community Festival. Did we see you there? Don't worry if you didn't have the time to attend. We've included all the top details in this blog to catch you up to speed.
Let's have a look at our exciting weekend.
Saturday 15th July — NHS Community Health Event, Cumberland Market
The first event we attended was the NHS Community Health Event on Saturday the 15th of July. This took place in Cumberland Market, Regents Park, NW1, and Bil, Marc, Costa, and Sinead were on hand to represent the club.
We were able to take part and promote the health benefits of boxing and the general mental and physical health benefits of regular exercise — something our team is very passionate about.
Of course, we had our pads with us and offered free pad work with kids and adults. The little ones were particularly keen to get the gloves on, and we're always more than happy to help. Costa even had the Mayor of Camden join him on stage, where she tried out her jab and cross.
Overall, we were thrilled to be part of this community-focused event and to promote ways to live a healthier and happier life.
Sunday 16th July — Camden New Town Community Festival, Camden Square
The next day, we were back at it again at the Camden New Town Community Festival in Camden Square NW1, with Costa and Jack representing the club.
We couldn't resist getting the gloves and pads out again, and we were pleased to see attendees trying out their punches throughout the day. It's always great to see people try on the gloves for the first time!
Did you spot us? We also had the pleasure of bumping into some of our members at the festival. You made our day!
It's safe to say it was another successful day of working with the local community and raising awareness for the advantages of boxing.
What's Up Next?
We're always on the lookout for more events and festivals to attend. Nothing makes us happier than talking to the public about boxing, especially when we can tempt them to throw a couple of punches.
Can't wait until a festival? Come and visit us! Whether you want to participate in a class or simply train, we're always happy to help.